If you try to delete a distributed application you may get an error like this.
Application: System Center Operations Manager 2007 R2
Application Version: 6.1.7221.0
Severity: Error
Message:
: Verification failed with [1] errors:
——————————————————-
Error 1:
: Failed to verify View with ID: View_1f1998325fe94ccb97855d7154bfa30c
Target property :ManagementPackElement=Service_ceecc43c88ee428197f7eafbf91236e2 in ManagementPack:[Name=my.managementpack, KeyToken=, Version=1.0.0.0] for this View is incorrect.Cannot find ManagementPackElement [Type=ManagementPackClass, ID=Service_ceecc43c88ee428197f7eafbf91236e2] in ManagementPack [ManagementPack:[Name=my.managmentpack, KeyToken=, Version=1.0.0.0]]
——————————————————-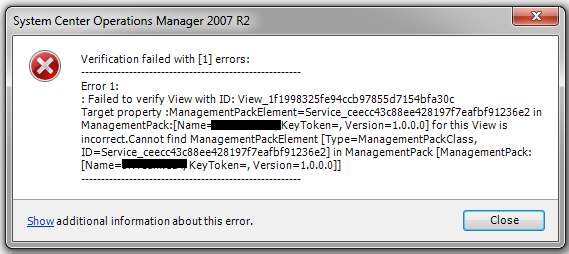 The reason for this error is that there is a view that you created in the Monitoring Console to display the distributed application.  You have to delete this view first.  Then you can delete the distributed Application.