Looking at the logs I see this
[10:30:32]:           Info:      :GetSqlVersion: Collecting SQL Instance information for vscomsql1
[10:30:34]:           Error:     :GetSqlVersion(): Threw Exception.Type: System.Management.ManagementException, Exception Error Code: 0x80131501, Exception.Message: Invalid class
[10:30:34]:           Error:     :StackTrace:   at System.Management.ManagementException.ThrowWithExtendedInfo(ManagementStatus errorCode) at System.Management.ManagementObjectCollection.ManagementObjectEnumerator.MoveNext() at Microsoft.EnterpriseManagement.OperationsManager.Setup.Common.SetupValidationHelpers.GetSqlVersion(String sqlServerInstance)
[10:30:34]:           Always:                :Current Version of SQL=0.0   Required Version=10.1.0.0
Looking at http://technet.microsoft.com/en-us/library/hh205996.aspx I found this note
You might receive a message about having the wrong version of SQL Server, or you might encounter a problem with the SQL Server Windows Management Instrumentation (WMI) provider. To resolve this problem, open a Command Prompt window, select Run as administrator, and then run the following command. In the command, replace the <path> placeholder with the location of SQL Server:

mofcomp.exe "<path>\Microsoft SQL Server\100\Shared\sqlmgmproviderxpsp2up.mof".
I tried running the "mofcomp.exe" command on the SQL Server but it doesn't even seem to execute correctly.
mofcomp.exe "C:\Program Files\Microsoft SQL Server\100\Shared\sqlmgmproviderxpsp2up.mof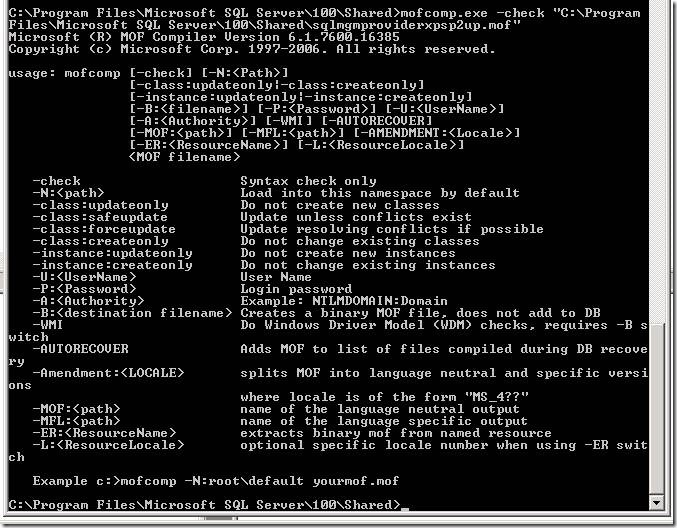 Finally I figured out what this issue was.  I was running the command using the wrong path.  Thinking it was a 64-bit OS and SQL 64-bit I assumed 64-bit path.  Turns out the command needs the x86 Path "C:\Program Files (x86)"
I ran the following command and this fixed my issue
mofcomp.exe "C:\Program Files (x86)\Microsoft SQL Server\100\Shared\sqlmgmproviderxpsp2up.mof