Below is a script that I wrote to monitor file count in a directory.
To Implement this please reference my earlier post on how to setup a Script-Based monitor.  https://www.scom2k7.com/create-a-script-based-unit-monitor-in-opsmgr2007-via-the-gui/
In the Parameters: Dialog box you will need to specify a directory path in quotes then a space and the type in the number of files you what to have in your directory before you want to alarm.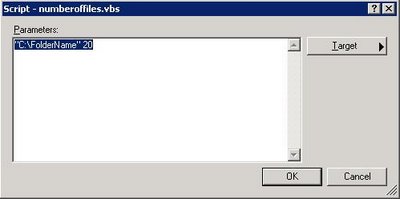 For Unhealthy Expression: Property[@Name='State'] Equals BAD
For Healthy Expresion: Property[@Name='State'] Equals GOOD
Dim oAPI, oBag, objFSO, objFldr, bSendError, strOut

bSendError = False

Set oAPI = CreateObject("MOM.ScriptAPI")
Set oBag = oAPI.CreateTypedPropertyBag(StateDataType)
Set eBag = oAPI.CreateTypedPropertyBag(StateDataType)
Set oArgs = WScript.Arguments


If oArgs.Count < 2 Then
strReturn = "Script aborted. Not enough parameters provided"
Call eBag.AddValue("State","BAD")
Call eBag.AddValue("ret",strReturn)
Call oAPI.Return(eBag)
WScript.Quit -1
End If  


strOut = checkfolder(oArgs(0),int(oArgs(1)))

If bSendError Then
	strReturn = strOut
	Call oBag.AddValue("State","BAD")
	Call oBag.AddValue("ret2", objFldr.Files.Count)
	Call oBag.AddValue("ret",strReturn)

 
Else 
	'WScript.Echo("GOOD "& vbNewLine &  strOut)
	Call oBag.AddValue("State","GOOD")
	
End If 


if 0 <> Err.number Then
    strReturn = "An Error occured: " &  Err.Description
    Call eBag.AddValue("State","BAD")
    Call eBag.AddValue("ret",strReturn)
    Call oAPI.Return(eBag)
else

Call oAPI.Return(oBag)

end if


Function checkfolder(strfldname,numberfiles)

Set objFSO=CreateObject("Scripting.FileSystemObject")
Set objFldr=objFSO.GetFolder(strfldname) 
If objFldr.Files.Count > numberfiles Then

checkfolder = numberfiles
bSendError = True

End If

End Function