With the release of V2 I began building a management pack to collect the event logs created by the Maintenance Mode Scheduler and display them in the console.   Recently SCOM guru Tao Yang e-mailed me about his MP that provided similar functionality with more features then I had imagined.
I am making this my official management pack for the SCOM 2012 Maintenance Mode Scheduler.
Full Blog post with download can be found on his site.   http://blog.tyang.org/2014/05/22/management-pack-scom-2012-maintenance-mode-scheduler/
Features Include:
Auto Cleanup of past maintenance mode jobs that were set to run once.
State View to see state of SCOM Maintenance Mode Scheduler.  It also validates the account has local admin permissions and a valid password.


Event View for New Jobs and Jobs that were Auto cleaned up
Task to Launch the Web Console.

Dashboard View using the new PowerShell widgets
Report on New Jobs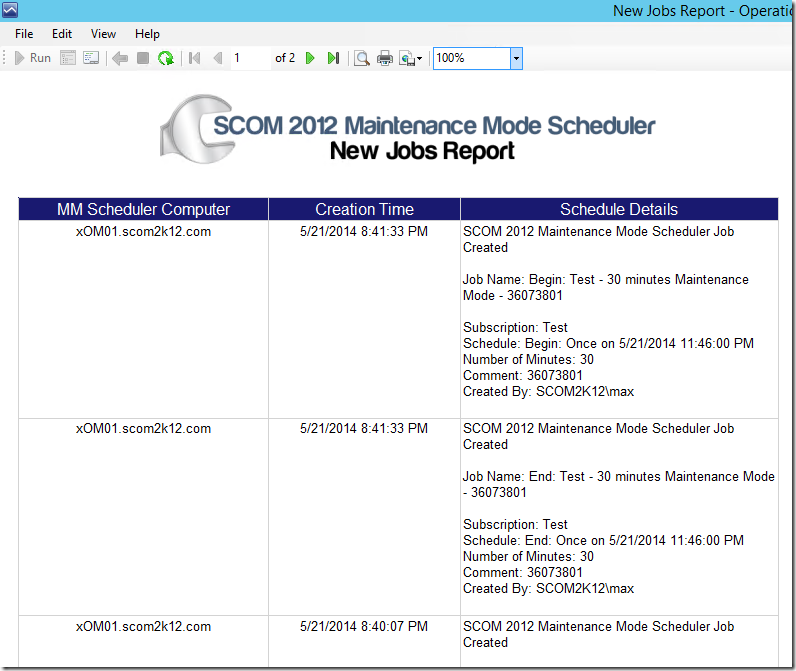 If you are using the SCOM 2012 Maintenance Mode Scheduler.  I highly recommend you checking this out.
All credit goes to Tao Yang.  Thank you for creating such an awesome MP.