I was recently working with a customer that had this solution configured in full production and I must say it is impressive.  They were getting really useful alerts about disk I/O issues and Virtual CPUs being overloaded.  Everything in the MP just seemed to work from alerts to dashboards to reports .  It is worth checking out.
http://www.veeam.com/vmware-microsoft-esx-monitoring.html
New features in 6.5
New enhanced fault tolerance
Automatic re-targeting of data collection ensures continuous delivery of monitoring
data. Even if vCenter goes down, it will not have an impact on monitoring. If vCenter
should fail, Veeam MP will automatically fail over and reconfigure so that data will
then be collected directly from vSphere hosts. And failback is automatic—when
vCenter is restored, Veeam MP returns to the default data collection method
without interruption.
New configuration tracking and alert correlation
New configuration tracking shows what has changed in the vSphere environment,
so if there's an issue with resources or capacity, you'll have a correlation of events
to help you pinpoint the cause. This new report offers detailed tracking of
configuration properties for all vSphere objects, including clusters, datastores,
network switches, hosts and VMs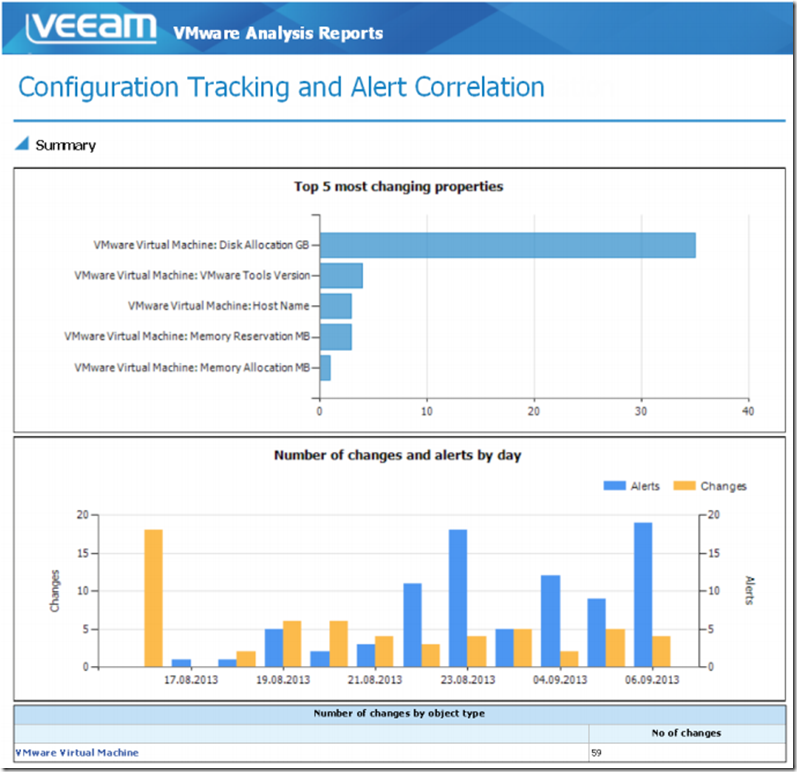 New monitoring and reporting for Veeam Backup & Replication
Veeam MP v6.5 discovers the Veeam Backup & Replication environment to provide monitoring, status, availability, performance and
reporting of your backup infrastructure directly in the Operations Manager console.
If you already have Veeam Backup & Replication, Veeam MP will be able to monitor all infrastructure created by Veeam Backup
& Replication, including proxy servers, repository servers, WAN accelerators, backup jobs running on backup servers, and more.
Repositories are monitored for free disk space and availability; Backup Proxies and WAN accelerators are monitored for availability.
Veeam MP also monitors the global cache (deduplication) and sends out alerts if the cache cannot be created.
 
Veeam MP provides performance metrics for individual backup jobs running on backup servers, with alerts that are specific to
each job. The backup jobs are monitored to alert on job failure and job duration (optional). Veeam MP also collects backup-related
performance metrics such as size of transferred data or compression and deduplication rate. The backup jobs can be grouped by
server and by type (e.g., replication, backup, copy, etc.) Veeam MP discovers and displays the topology of the backup infrastructure.
Veeam MP delivers advanced analysis reports that include:
Protected and unprotected VMs: shows which VMs have valid recovery points for the specified period. The report includes
information on the completion status of recent backup and replication jobs, with the number of restore points available for
each listed VM. It helps you identify the VMs that lack proper backup protection, either because of failed or outdated backup or
configuration error.
VM Verification: details VMs where automated verification (i.e., SureBackup® jobs performed by Veeam Backup & Replication)
has checked that all restore points are recoverable. The report shows how many protected VMs have been tested and verified,
the status of SureBackup job completion and the test details.
Restore Operator Activity: shows what was restored, by whom, when and where. The report provides audit information on
all types of restore actions (file, application-level and VM restores by authorized persons) performed across the selected Veeam
Backup & Replication servers.
Backup Copy Job: tracks performance and status for backup copies, evaluating the efficiency of backup data transfer through
WAN accelerators and estimating the reduction in network traffic. Traffic usage history is documented and accompanying
tables report the amount of data transmitted and include individual job properties.
Capacity Planning for Backup Repositories: analyzes the amount of free space on backup repositories and predicts when the
repository will run out of available storage capacity. The report recommends how to adjust the allocated storage resources to
meet future demands for backup storage, ensuring there is sufficient space for backup data at any point in time.