Requirements:
The Maintenance Mode Scheduler must be installed on a SCOM 2012 RTM, SP1, or R2, Management Server that has the Operations Console and Web Console installed.
1.) Copy the SCOM 2012 Maintenance Mode Scheduler.msi file over to the Management Server.
2.) Right click and choose Run as Administrator
Note: In some environments Run as Administrator may not show up. In this case just click Install
3.) Click Next
4.) Read and Accept the License Agreement, then click Next
5.) On the Ready to Install screen click Install
6.) Click Finish
7.) On the Desktop you will see a wrench Icon

called Maintenance Mode 2012 Config.
8.) Right click on the icon and choose Run as Administrator.
9.) The configuration screen will automatically populate the Management Server, Operations Manager DB Server, Database Name, and Domain.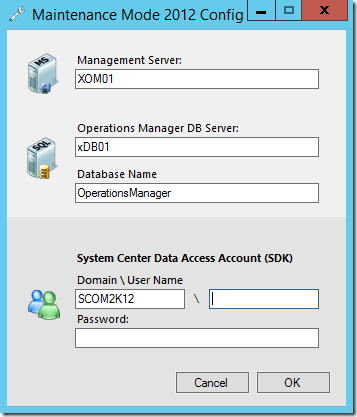 10.) Type in the username and password of the System Center Data Access Account (SDK)
  Note: You can also create a new AD user that is a member of the local administrators, SCOM Admins, and have read access to the Operations Manager Database.
11.) Click OK
12.) On the complete screen click Start to Launch the Maintenance Mode App

Import the SCOM 2012 Maintenance Mode Scheduler Management Packs (Optional)
These Management pack were created with the help of SCOM Expert Tao Yang. http://blog.tyang.org/
More info on the Monitoring MP can be found here. http://bit.ly/1m9bE6m
1.) Make sure you are running SCOM 2012 R2 UR2. http://support.microsoft.com/kb/2929891
2.) Open the SCOM Console and Select the Administration Pane.
3.) Under Management Packs. Right click and select Import Management Packs

4.) Select Add From disk

5.) Select No on the Online Catalog Connection dialog
6.) Browse out the MM Scheduler install directory. C:\Program Files\SCOM 2012 Maintenance Mode Scheduler\Management Packs
7.) Select both the Dashboard and Monitoring Management Packs.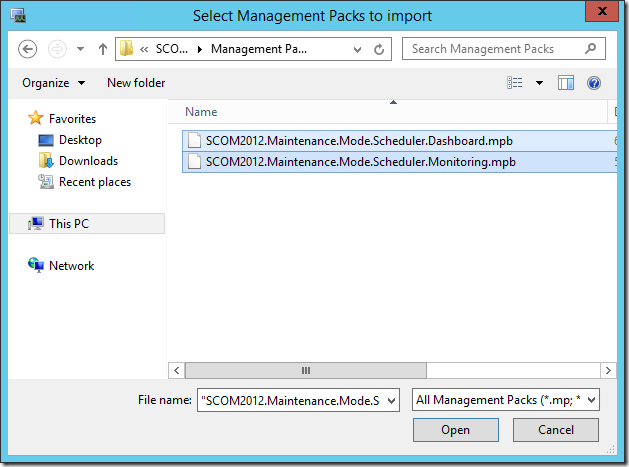 8.) Click the install button.